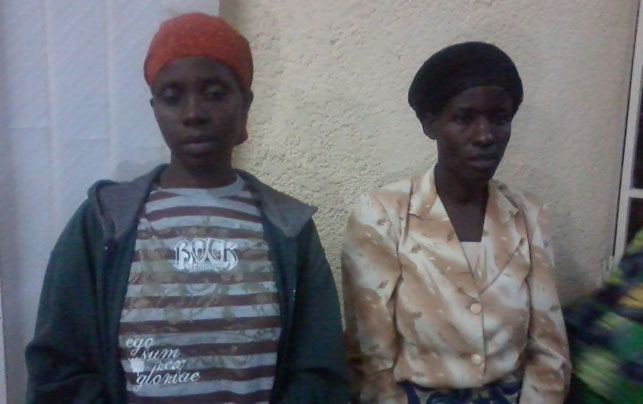 THE KAGAME'S GOVERNMENT IS SCARED OF THESE TWO YOUNG INNOCENT WOMEN THINKING THAT THEY WANT TO OVERTHROW THE KIGALI GOVERNMENT !
ONE OF THE RPF TOBACCO PLANTATIONS IN NYARUGINA
KINIGI REGION
When the district court of Musanze in Ruhengeri asked Ms Mujawamariya aLeonille and Twizerimana Francoise to tell the court whether they know Paul Kagame, they said "NO" when the court pressed on asking them whether they can identify president Kagame among the people who were seated calmly in the court pews, Leonille pointed her hand toward a thinny looking man with thinny specles hanging over his nose and she said, "I guess that man might be Paul Kagame," she replied. The entire court bursted into laghter amused by Leonille's action.
THESE ARE THE PEOPLE ROUGHED UP BY THE
RWANDAN LOCAL DEFENSE FORCES IN MUSANZE
Rwanda is one of the oddest countries on the planet. It is sadedening but also funny. Few days ago the Kigali government sent its troops to harass the people of Musanze whereby they started shooting in random at innocent people who were selling and buying in different village markets of Rond-point and Bisate in KINIGI region, Shingiro and Byangabo in MUKINGO, Kimonyi and Nyakinama in Nyakinama, and other areas in the neighborhood. RPF is accusing the villagers of these regions to be FDLR sympathizers. What amazes is that when the so called suspects were asked whether they know Kagame they said no when the court threatened them because of fear they pointed at a tinny looking primary school teacher who was sitting at a court pew in the corner of the court. This is the government of Kagame we are talking about. It fears that the people of Ruhengeri have never forgotten the year 1997-98 when Kagame told them that he will kill them to the last so tat he can bring American and British investors American British Tobacco Company to come and plant (ITABI-TOBACCO-LE TABAC-TUMBAKU) in Ruhengeri and Gisenyi. 15 years later Bwana Kagame still want to pursue his plans to kill the people of Ruhengeri who have never shied away from showing him openly that they wont serve his regime. Majority of the people whom Kagame is accusing of planning to overthrow his government dont even know him on the photo leave alone to know Kagame physically.
FDLR SOLDIER
Today 27 May the Court of Appeal of Ruhengeri-Musanze, as RPF calls this region, has sentenced to more than 30 days behind the bars two innocent village women accused of working closely with the Hutu rebellion based in Eastern DR Congo called the DEMOCRATIC FORCES FOR THE LIBERATION OF RWANDA or FRONT DEMOCRATIQUE POUR LA LIBERATION DU RWANDA (FDLR). These two innocent village women are Mujawamariya Leonille and her sister Twizeyimana Françoise. After being tortured by the RPF police and being threatened to be put RED PEPPER in their private parts, they were forcifully confessed to be in contact with one of their brothers who is a senior military in FDLR Major Mutsindashyaka Juvenal alias Blaise. The Kigali government is accusing these innocent village women who have never been outside of Musanze region in the last 15 years to be planning to overthrow the Kigali government and kill President Paul Kagame.
These two innocent village women are among around 60 women who were roughed up by the RPF police together
Alfred Nsengimana

with the terrorist group members of RPF known locally as LOKODIFENSI. When these women were picked up by the RPF police they were attending the funeral of the late
Alfred Nsengimana
who
was the immediate executif of CYUVE location. I have to remind you that Mr
Alfred Nsengimana was brutally murdered while handcuffed by the RPF police just two weeks ago.
That is how brutal and determined the Kagame government is determined to eliminate Hutus, especially those in the Northern Rwanda of whom Kagame still thinks that they will always support their children and relatives that the RPF has denied rights and access to Rwanda since 1994. Some women among these 60 who are in torture chambers in KIGOMBE were roughed up by the RPF police in different locations of KINIGI, MUKINGO, and NKULI while they were going on around their daily businesses in their villages. 14 of them were picked up from Shingiro open village market others in Byangabo and Rond-point. Actually it is said that 12 people of those in Kigombe Mabuso are members of one family that RPF killers want to exterminate. I have to remind you that this family lost more than 20 in 1997 incouding their father when RPF used to besiege villagers of RUHENGERI AND GISENYI in its infamous SONGAMANA which was led by the now distressed exiled General KAYUMBA NYAMWASA who is in South Africa.
THIS HUTU BOY WAS ROUGHED UP BY RWANDAN
POLICE IN MUSANZE
According to the RPF prosecutor, these innocent villagers are alleged to have exchanged phone conversations designed to remove the dictatorship of Paul Kagame since 2008 with their brother Major Mutsindashyaka Juvenal who is in charge of FDLR Intelligence. They have been tortured by the RPF to accept all charges since they were kidnapped by RPF few weeks ago. Some reliable sources tell us that all 60 people have been put in a room full of sewage and beaten on daily basis until they confessed.
After the court sentence the Kigali media and the police performed the same drama they performed during the times of the celebrated Musician Mihigo. The police asked Leonille and Francoise to confess to the media and ask for forgiveness, especially to the women because, according to them, women should not be engaged in the Rwandan politics and the struggle for liberation of Rwanda, just because they are women.